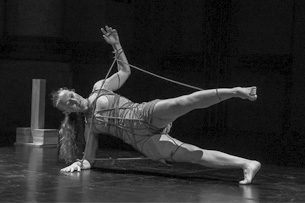 Michal Mualem
Coreografa
In Israel between 1994 and 2001 she worked with several companies/choreographers such as : Liat Dror&Nir Ben Gal company, Niv Sheinfeld, Inbal Pinto, Noa Dar dance group. In 2001 started her collaboration with Sasha Waltz&Guests company in Berlin as a dancer in the pieces: Nobody, Korper, Insideout, Impromptus, Dido&Aeneas, Sacre, Orfeo, Continu, Romeo&Juliette, Women, Exodos.
In 2008 the Italian choreographer Roberto Zappala has created for her the solo piece 'Instrument 2', which they will retake in 2019. In 2008 and 2015, collaborated again with the 'Noa Dar dance group' (Israel), for the productions: 'Arnica' and 'Last date'.
As assisting Sasha Waltz as a rehearsal director for handing over the piece 'Nobody' to the Goteborg Ballet, Sweden, for the creation 'Women', for the piece 'Impromptus' to the National ballet of Portugal and for the creation Nobody for a new cast of the company.
Since 1995 was teaching contemporary classes in Israel. Since 2006 teaches contemporary dance, contact and improvisation in Israel and Europe, as well as repertory from Sasha Waltz's company.
Since 2005 creating her own pieces with her partner for life and creations Giannalberto de FIlippis. Together they created: In Between (2005), Here and Not for Curtain up FestivalIsrael(2006), Silenzio Cucito, Piccola Piccola for Zirat Machol Jerusalem (2007), And after all that for HaDance company in Haifa Israel, Drops of memories for the Modem Atellier in Catania, Sicily (2008), Uno Uno (2010), Broken alright Broken alright - for Machol Shalem Festival Jerusalem, Mister moon and Miss Luna for Vizo school of Art, Haifa, Echad Echad for the Sadna in Haifa(2011), Left between Us, Is it Okay if I die like This? For the SEAD experimental Academy (2014) In 2017 premiered their full evening duet 'First and Last' in Hangartfest, Pesaro Italy. In 2016/17 collaborated with the choreographer Claudia Catarzi for their first piece together: 'a set of timings' which was performed in InterPlay festival Torino, Armunia Festival Inequilibrio/Castiglioncello, Fabrica Europa festival Firenze Italy, La Manufacture Bordeaux, Shorttheatre festival Rome.
In 2018/19 Created two pieces for the APPStage formation program of Almadanza Academy in Bologna, "Sovrapposti" and "Wish". In 2019 created 'Be/4/Me' for an experimental festival 'All'improvviso' in Bologna, Italy and 'In-Met' for the association Oltredanza, which was performed at Palazzo lanfranchi and Musma - a Museum for contemporary art, both situated in Matera, Italy.
Mualem/devFilippis dance projects had performed their work in many International venues and festivals such as Aerowaves -London, Festival Della cité - Lausanne, Tanec Praha Prague, Curtain up festival, International exposer - Susanne Dellel Center, Tmuna theater - Tel-Aviv, Opera estate festival - Bassano del Grappa, Italy and more…. Their choreographies were awarded in the Hanover competition - Germany and the Oriente Occidente festival, Italy.
Since 2010 she became a mother to Liam and Luna.