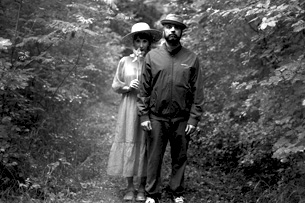 Marisa Ragazzo - Omid Ighani
Coreografi
They began to collaborate in 1996, systematically amalgamating their personal artistic curiosities, their own background and their talents, careful to keep diversity intact and often managing to enhance them.
Their diverse artistic training, academic for Marisa (Prebil, Trayanova, Lupov, Peter Goss, Sebron) and street for Omid (freestyler, like many talents born and raised in the hip hop culture of the 80s), produces an innovative artistic code and singular.
Both in love with extreme experimentation and the contamination of styles and languages, they create an unusual choreographic dimension, while remaining absolutely accessible to any audience. They love speed, technical virtuosity, the fusion of the theatrical space with the artistic code of the street, from which they draw the thrust towards art in its various aspects, which often leads them to collaborate with underground musicians and visual artists.
Their primary goal remains to get out of conventional spaces through originality, invention, innovation and research.
In 1996 Marisa and Omid opened two professional hip hop training schools, still in business, in Lazio and Sardinia, to which, over the years, 8 other locations shared in the organization with Cruisin 'Arts (MC Hip Hop School: Milan, Verona, Jesi, Florence, Rome, Bari, Catania, Cagliari), and a specialization school for Video Dance and House (Cruisin 'Urban Dance Hdemy: Modena and Rome).
Since September 2015, the professional training courses are directly managed by the choreographers and take the name of NOHA HipHop School and Nuovi Linguaggi Metropolitani. In addition to vocational training schools, they carry out an intense teaching activity, in Italy and abroad.